---
NEW: Portability & Flexibility with Machine Embroidery

Julie has been working to make our ME patterns even more flexible. Let's look at a NEW ME launch: P159-ME Sew Necessary




That's an awesome project in its own right. So, we're done, right?
Not so fast!

What if I wanted to lift up that cute tomato pincushion and use it on something else? Can I do that? Am I allowed to do that?

And that's what we're doing now -- we want you to be able to build a library of designs so that you can do your own projects!

Not every shape is available today, but that's where we're going ... so that when you buy an ME pattern, you start building your library of Patch Abilities designs.

So, this is an effort to better support that true DIY spirit you all have.

And, with that in mind, here is a new pattern we're launching: P295-ME Home with a Patriotic Gnome: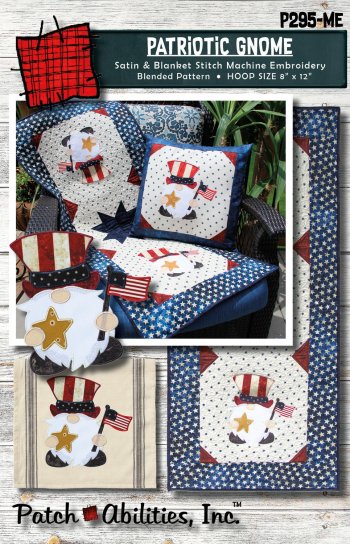 This is available for pre-order today by clicking the image above.

The P295-ME Home with Patriotic Gnomes is our first multi-use, multi-project pattern. Yeah, we're excited about this.

Sure, we have instructions for the basic table runner, wall hanger, and pillow. Those are great.

But, what about putting it on a towel?




Or, even better, add a slick rope-handled tote to your order and make that your next project:




Tote Bags are available for a limited time only!

These are pre-orders that we expect to begin shipping the week of June 13.

---
Next Level Machine Embroidery

We've been talking about our machine embroidery patterns for a while now. We think they're great and we know you'll love them.

A couple weeks back, Julie talked about the options we give you on stitching -- blanket stitch and satin stich. That video is still on our Facebook page, so click here to check that out.

But Wait! There's More!!
Isn't there always? Ha ha!

But, seriously, when you grab one of our ME patterns, it's truly a 3-in-1 set of instructions:

1. Satin stitch instructions for your embroidery machine
2. Blanket stitch instructions for your embroidery machine
3. Traditional instructions for good, old-fashioned sewing machines and hand embroidery

With the same kit, you could do each of these:




OK, there's only two pics, but the second one is blanket stitch -- you can do this on your sewing machine or with your embroidery machine. Note that the embroidery machines can embroider the buttons, too!

All three projects are included with every ME pattern. You'll get a printed set of instructions and you'll get the digital PDF instructions on our handy USB stick.

---
What About Digital Downloads?

After all, these are digital files, so why can't you just download them in this digital age we're all living in?

Simple: We want you to shop local.

See, we just can't offer the same level of service that your local shops can -- advice, troubleshooting, fabrics, temporary adhesive spray, batting, thread, and so on. We don't compare to your local shop in any of these areas -- you'll have a better experience when shopping with them.




We don't have downloadable ME files ... But, they can certainly offer our ME files for download.

We encourage our partner shops to carry all of our products in their digital form. So, please, ask your shops for these things -- the more you ask, the more responsive they'll be to you.
---
Sun & Fun

Hot off the blacksmith's anvil is this new hanger.

Yep, Julie designed this herself and it's part of our Mystery Pattern of the Month program.




For those in the program, you'll be seeing this very soon. For everyone else, you can grab one of these hangers today!

This pairs perfectly with many of our beach-themed and summer patterns:



Note that the MM807 Beach Hut is available as both a traditional and an ME pattern!

---
If you follow us on Facebook, you already know that I absolutely get a thrill when I see what you all are doing with our patterns. I love seeing your fabric choices. I have seen people take table runner patterns and turn them into pillows. It's awesome!

Share them on Facebook or email me at andy@patchabilities.com.


---
For questions or comments, feel free to contact us!
info@patchabilities.com
563-778-2101
or at info@patchabilities.com